PROFILE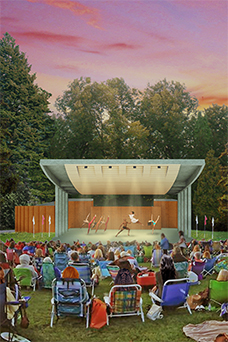 ORA provides innovative design services to community-focused organizations with particular emphasis on the design of museums, cultural facilities and public open spaces. We collaborate with clients, exhibit and landscape designers, engineers, and crafts people to create transformative environments. This collective process enhances each client's ability to achieve their mission on all levels, from community engagement to creative gathering spaces, with environmental, economic and social sustainability at the forefront.
We accomplish more with less, offering large firm expertise with small firm responsiveness and personal approach. We avoid a 'signature style', instead allowing each design to evolve through open-minded exploration with clients and community to create inspiring environments which express each client's unique context, program and values.
VALUES
Visionary / Practical: We thrive on the dynamic challenge of creating designs that are visionary and responsive to program and site, with careful attention to meeting tight budgets, schedules, and functional needs. Through an iterative distillation process, the vision achieves clarity, simplicity, and feasibility.
Adaptive / Sustainable: We believe that adaptability and sustainability are fundamentally linked: we strive to anticipate and celebrate future change. We seek clients committed to environmental responsibility, and we believe strongly that affordable and sustainable need not be contradictory terms.
Modern / Timeless: As we forge ahead with contemporary innovations, we never lose sight of time-proven principles and values. We strive to create timeless built environments that are contemporary while also evoking time-tested traditions and values.
Community / Culture: We are passionate about creating places that enhance the vitality of our communities and cultures. We dedicate a significant portion of our time to pro-bono services for non-profits and clients serving communities in need.
APPROACH
Research and Analysis: We are dedicated to comprehensive information-gathering of existing conditions, comparable facilities, client goals, site context, and technical considerations. Analysis of found insights establishes a sound basis for developing inspired and appropriate designs.
Open-Minded Exploration: We allow room for unexpected discoveries, new insights, and a compelling shared vision. We strongly believe in exploring alternatives even when there seems to be an obvious answer – inevitably the study of options leads to a deeper understanding of issues and greater insights.
Inclusive Process: We find that reaching out to all concerned parties enables comprehensive exploration by all participants. We believe that listening and clear communication is essential at every step along the way.
Documentation and Quality Assurance: Our commitment to follow-through is fundamental to achieving client goals and each project's full potential. Our successful project delivery record is founded on well-coordinated documents, prompt responsiveness, clear communication, and creative problem-solving with the contractors and craftspeople throughout the design and construction process.